Current Project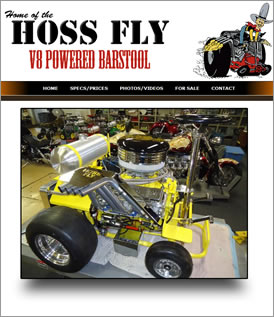 The Hoss Fly
V8 Chevy Engine
Hydrostatic Drive System
Ultimate Bar Stool!
New Web Site design.
We provide high quality web design
and business management solutions
Every great business idea takes off with the launch of a professionally designed website. Internet has redefined the way business is done and your website is the gateway to these opportunities.
An online presence has become VERY IMPORTANT for every company to lead its competition and to secure a position in the industry. It's not only important to reflect the business strategy of a company through its website.
If your business is not utilizing the internet….you are missing out on a huge opportunity….
In the past, when customers were looking for a product or service, their easiest option was to search the Yellow Pages for a company to provide that service. Sometimes a name and phone number was supplied, sometimes an address. On rare occasions a picture advertisement was listed.
With today's Internet, that customer can go to search engines like Google and Yahoo to obtain a list of businesses to fit their needs, with links to those web pages. These web pages may be loaded with product pictures, price lists, maps, phone numbers, and online Shopping Cart systems that allow customers to place orders for products and services. All of this is being done without the customer ever leaving their house or office.
You may be thinking, "Why should I burden myself with the added expense of a Web site?" Simply put, not having a web site will be like not having a listing in your local Yellow Pages. This is referred to as a "corporate presence." A well-designed, professional web site can give you added visibility and credibility, especially if you provide a public service. The cost of maintaining a Web site is probably the most cost effective advertising you will ever do.
By having access to a computer, the Internet is one of the first places used to search for information. The World Wide Web is the easiest tool for your customers to access your business.